Sound Healing and Therapy Sessions 
A customized sound healing and therapy session utilizes a unique VoiceBio software, which reveals a composite analysis of your body's physical and emotional frequency needs. The VoiceBio composite analysis results will suggest musical keys, essential oils, colors, and supplements that will benefit your body. Also from the VoiceBio analysis, you will be given, through Spirit-led leading, along with intention, timbres, melody, harmony, rhythm, form, Just Intonation or Pythagorean tuning frequencies, and other unique software, an individualized sound therapy music session, created personally and intentionally to your body's physical and emotional needs, and recorded on CD for you to take home from the session to use repeatedly. Your sound therapy session may also include additional mp3's or CD's, depending on personal needs. 
Additional Certifications and Licenses 
I am abundantly blessed to announce the addition of Certified Integrated Life Processes Practitioner, Vibrational Sound Coach, as well as a Spiritual Healer License to Sound Expressions (renewing the body through sound). These certifications provide additional sound therapy options for clients, and broaden the spectrum from Sound Therapy to VoiceBio Technology to Essential Oils to Tuning Forks (Phase 1, 2 and 3) to Music Bible Writer (Scripture converted to musical notation). I have also adapted VoiceBio Technology to coincide with the more scientifically accurate Color Therapy. Looking forward to adding all of this to Holy Spirit led spontaneous frequency infused music specific to the frequency needs of each client He sends me or sends me to! 
Personal Testimony of Reliability Confirmation/Validation 
I have been wrestling with thyroid and hormonal issues on a larger scale for about five years. I finally remembered to give myself a VoiceBio at the same time retaking medical labs due to medication issues and physical symptoms. My results absolutely confirm/validate the reliability of the VoiceBio (now called Voice Harmony Analysis) software I utilize in my Sound Healing Therapy sessions with clients. Due to confidentiality I would/could never share a client's results, but I AM able to share my own results. Generally my C (thyroid and hormonal musical key in the software) is low or missing due to hypothyroidism. One can clearly see my thyroid is currently stressed in both my VoiceBio print and in my lab results. I have been playing in the musical key that helps de-stress it, as well as utilizing the corresponding essential oils, herbs, spices, teas, colors, stones, veggies, flowers, etc. while in progress of it being restored to its to proper balance. I have more labs next week and will repeat my VoiceBio to confirm another layer of my journey – body, mind, soul, and spirit. Reliability confirmation/validation is always a good thing in the alternative holistic fields.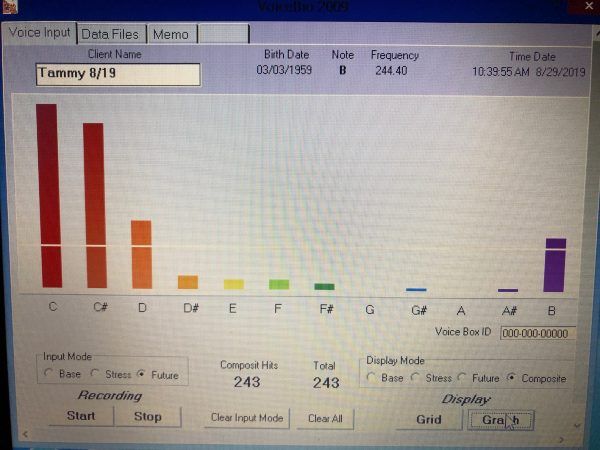 What Does A Sound Healing Therapist Do?
I work with music. Sound is everywhere, and music is able to engage people at all levels. Specifically, I analyze body frequencies. My baseline tool is a VoiceBio, which provides a frequency measurement. This profile is used to create music specific to individual needs; the human voice reveals much of what's transpiring within emotionally, physically, mentally and spiritually. 
Once specific needs are identified, I spontaneously create a musical piece tailored to the client's body's frequency needs, whether it be enhancement, support or de-stressing. Clients in my sessions have often referred to this experience as likened to receiving a sound massage.
If any of the following questions pertain to your needs, you may want to consider Sound Healing Therapy and Sound Expressions music: 
Are you or is someone you know have difficulty sleeping?
Are you stressed about finances, relationships, health, work, school, or circumstances?
Are you being emotionally, mentally, physically, or spiritually stretched or exhausted?
Are you needing to find peace and rest in the busyness of life, needing a break from the daily routine of life to soak in a sound massage?
Are you struggling with stuck emotions, depression or grief?
Do you need a fresh perspective?
Are you experiencing difficult life situations (sickness, disease, death, stress, anxiety, grief)?
Do you or someone you know need music that ushers peace and calming into daily life?
Are you caught up in a medical treadmill and looking for alternative options?
Are you in need of prayer specific to your needs?
How is Sound Expressions music different from other holistic frequency infused music, such as, Healing Frequencies, Whole Tones, etc.? Tammy Sorenson creates/records music spontaneously at Holy Spirit leading specific and personal to each individual. VoiceBio Software Assessment and Music Bible Writer Software are utilized to uniquely target each individual's holistic frequency and Scriptural/spiritual NOW Word needs. A Holy Spirit inspired holistic frequency infused instrumental piece is then created especially for you in your Sound Healing Session!
Customized Sessions Available 
$100 Initial Individualized Sound Healing and Therapy Session: includes VoiceBio/Consult and Personalized Recorded Music (90 minutes)

$100 Integrated Life Processes Session

$85 Per Additional Session/VoiceBio/Consult/Personalized Song (60 - 75 minutes)

$75 Unique Personalized Scriptural Vibrational Sound Session: utilizes Weighted Body Tuners (70 - 75 minutes)

$100 Unique Personalized Scriptural Vibrational Sound Session: includes VoiceBio/Consult, Weighted Body Tuners, and DNA/RNA Tuning Forks (75 - 90 minutes)

$45 Vibrational Sound Session Phase I EVT (Energy Vitality Technique) (45 minutes)
*See Contact Information Page to Book A Session or Event Today!