TESTIMONIALS/RECOMMENDATIONS
Abundantly Blessed and excited by rising monthly listeners!!! Go Holy Spirit! Jesus, reveal Yourself as Healer to each and every one!!! Father, reveal Your intimate love, how You see each one through Your perfected Son, and Your good and perfect plans on their paths ahead. All for HIS glory!!!
Click to view Tammy Sorenson Spotify for Artists 2020 Wrapped
NOTE: all testimonies are to the glory of Jesus Christ alone! I am simply His vessel. I absolutely love and am blessed beyond measure when Holy Spirit ministers to our Heavenly Father's treasures through the gifts/calling He has placed within me. 
"Our daughter is playing piano by the Spirit. I don't know if @psalming is taking new students, but run and find out!"
Emily 
Ohio 2023
"Our daughter has grown so much as a pianist this year. Not just in skill, but desire!!! I never have to tell her to practice anymore. Thank you @psalming! She wasn't even assigned the song attached in this video, but wanted to work ahead!
Emily
Ohio 2023
"Hi there, I purchased the cycle music (lullabies of ease), for use with ATB applications, but I have been playing it during our homeschool lessons and it is amazing the calming affect it has on our home."
Pandora 2023
"Hi! I just wanted to let you know how much I enjoy Protector before my scions to change my inner atmosphere and her prepared. Uh! Your playing is unreal!"
Teri
Ohio 2023
"Best part? Tammy is a psalmist and she also teaches children how to prophesy on their instrument!"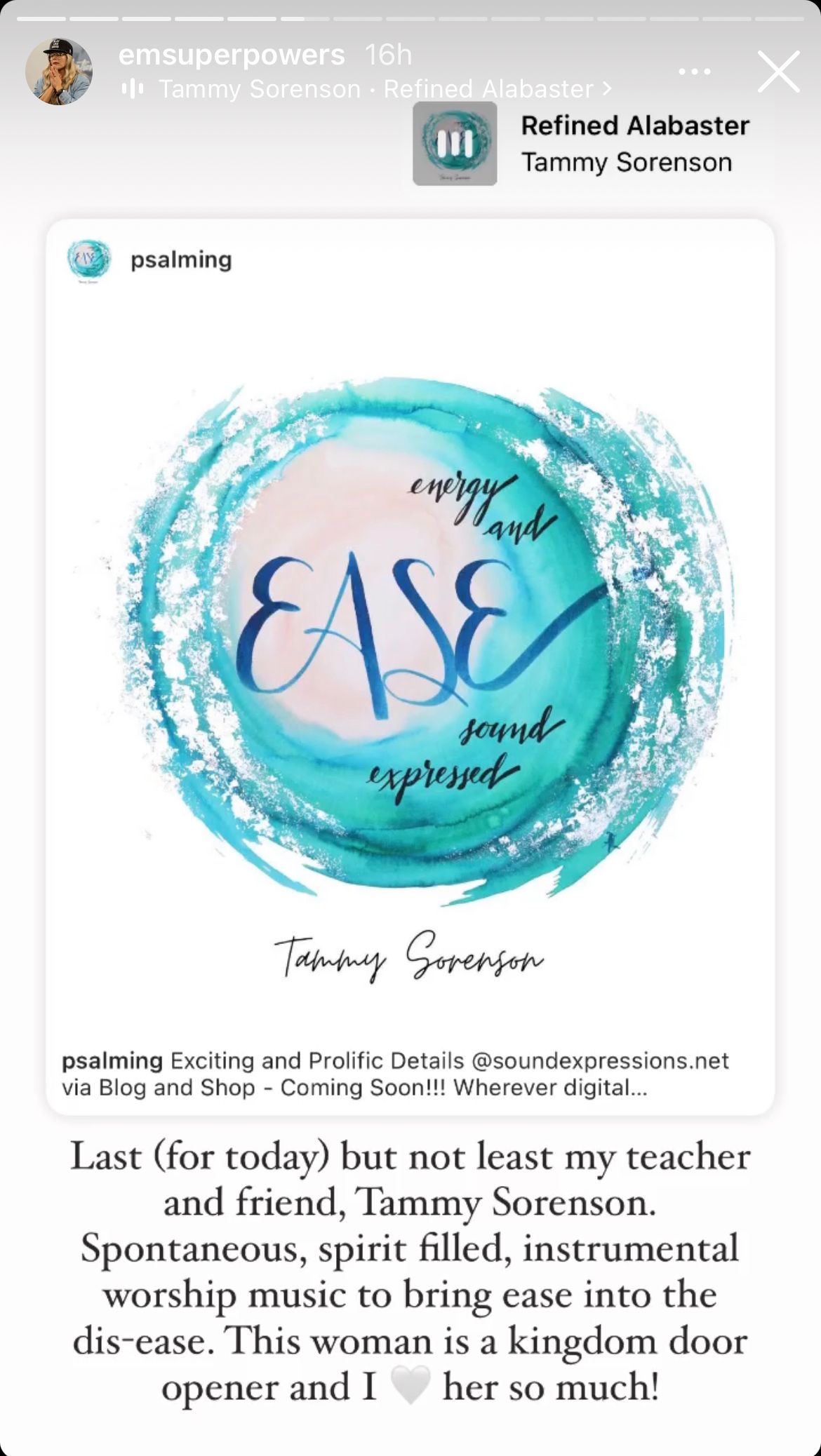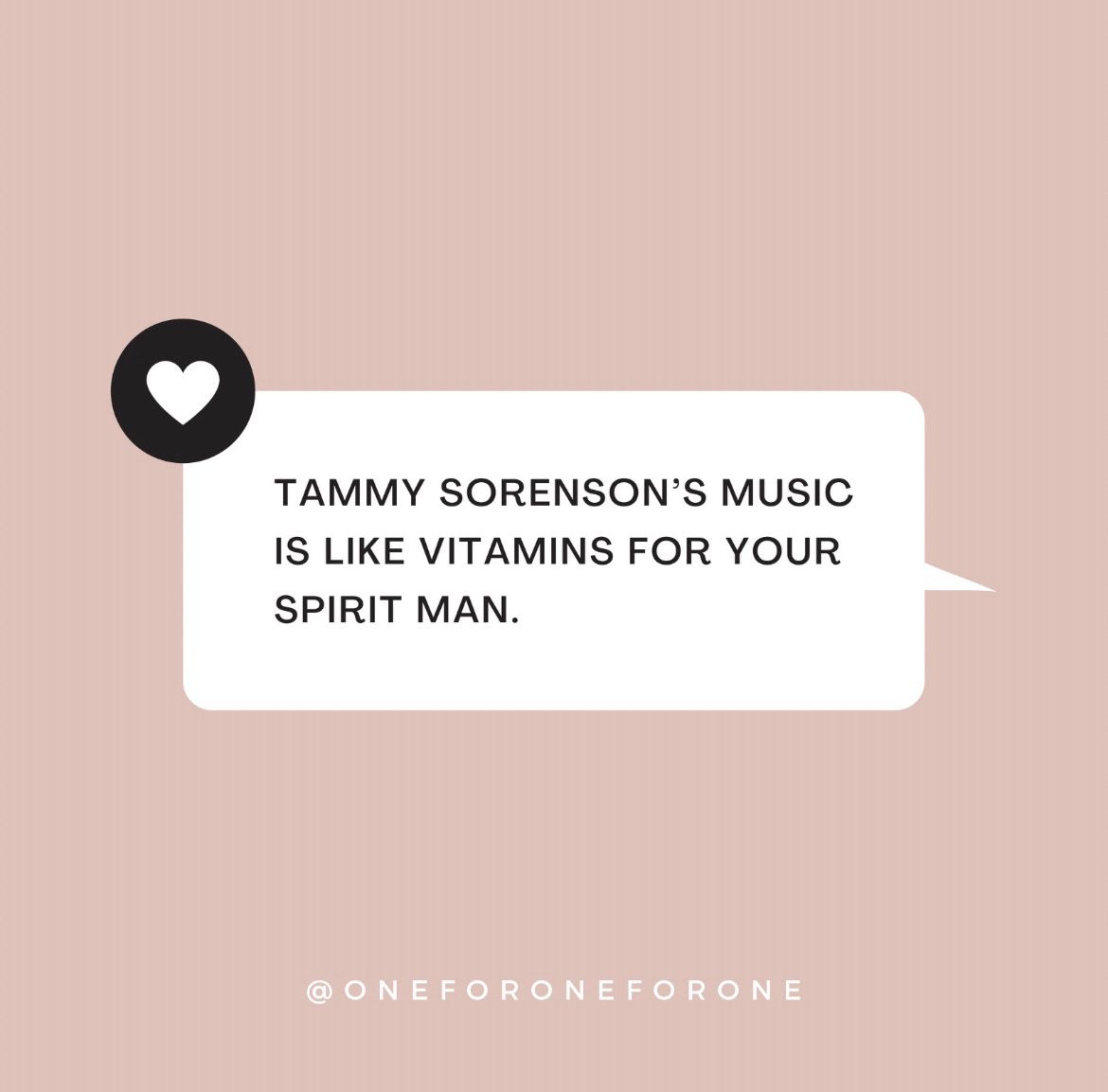 "We listen to it during all waking hours of our day." 
OneforOneforOne Movement 
Ohio 2022 
"I just wanted you to know what a blessing your music has been to me during a rally difficult season. I'm listening right now and it's a reminder of all the Holy Spirit spoke. Thank you for allowing God to use you so creatively." 
Michelle 
Texas 2022 
"Thank you SO much Tammy for working with my husband.  I think his session with you has been very helpful.  I could see a difference within 24 hours.  His outlook changed for the better and has continued to be much better. He loves to listen to his music and I love it too.  It's very soothing to our spirits.  I am working on incorporating the other suggestions.  Our time with you was a blessing and we just wanted to encourage you that we see that Father has gifted you uniquely for His purposes for you to use in His kingdom.  Thank you for using this gifting for Him!  We are so grateful to have found you and see that this is from His hand also. May the LORD bless you richly as you give to others." 
Cindi 
SC 2022 
"Thank you so much for the gift of Ease. Earlier I listened to 'Release the Sound You Were Created To Make' while I was running bio-energetic scans…the music really moved me and I had to stop for a moment and just take it in. At one point it even brought a tear to my eye. I love it!! I am looking forward to sharing SoundExpressions with my sisters…I just popped Ease into the CD player. It is so lovely!!  Again, thank you. Blessings to you and your ministry." 
Rita 
WI 2022 
Living Sabbath Virtual Retreat Renewing The Body Through Sound Session Testimonies 
"I just wanted to say how beautiful and peace filled your session was for the Sabbath Retreat. I literally felt heaven while it played and watched and the Father's heart through your voice and explanation. You are truly anointed for what He has called you – honestly, it was my favorite session by far – something so real and special and heavenly about what you do. Thank you so much. It is truly amazing! I'm creating right now with your music!" 
Allison
Oregon 2022 
 
"Wow, Dr Tammy, absolutely beautiful! The music, scenery, and scriputes chosen pulls one right into the depths of our soul and spirit. Holy Spirit's joy and translated love flows right through your spirit into ours. Thank you for sharing your gift with His One True Body of the Ecclesia. Blessings!" 
Renata
MN 2022
 
"I danced. Thank you, Tammy." 
Marianne
MN 2022 
 
"I want to have this running in my waiting room at the office! I want to view it daily and share with my closest friends. Thank you for your putting together this love offering so beautifully." 
Dr. Laura
NC 2022 
 
"I had the great blessing of listening to your restoring through sound session at the virtual living sabbath retreat this weekend and just now to the replay. 🎶🎶🎶I was truly moved to my core ❤️and seriously would love to know more about sessions. I bought and downloaded your Ease Album, and ordered another Album tonight.The Lord is truly drawing me to His ( thru you)  beautiful healing 🎶 music…I am beyond thrilled to listen. I want to dance and paint to it tooooooo!🎶🎶🎶❤️❤️❤️Super excited to partake in your anointed heavenly Holy Spirit inspired healing music. " 
Connie
Oregon 2022 
 
"Thanks so much for sharing in the Living Sabbath Virtual Retreat! Your session was wonderful! I love music, but have been unable to listen to much for the past several years due to migraines…your music was so peaceful and calming as I listened. Grateful for it!! Once I am able to work again, I plan to return here and look into your individualized sessions. Please feel free to make recommendations!" 
Christy
2022 
 
"Thank you for the presentation you gave for the Living Sabbath Virtual Retreat! As an EMDR therapist, the concept of impact at the cellular level is very exciting, and I look forward to exploring your work more fully. Blessings!" 
Penney
2022 
 
"I listened to your presentation at the Living Sabbath Retreat. Your presentation was absolutely beautiful! It made me think of other ways instrumental music could be used in my life and the lives of those around me. Thank you for this! God Bless!"
Jennifer
2022 
 
"I'm a missionary who trains on recovery form trauma in other countries. The sound therapy for release from trauma would be wonderful to use during the healing prayer session. Blessings upon you!" 
Patty
2022 
 
"I'm taking in your Renewing the Body Through Sound workshop in the Living Sabbath Retreat – so restful, peaceful and – I believe even releasing the tight muscles I've had in my neck/shoulders this past week! I'm not very familiar with sound therapy! Thanks and God bless!"
Jennifer
2022 
"Practicing some revelation to "Crimson Freedom" (EASE – Energy And Sound Expressed Album). Grateful for your beautiful anointed gift!"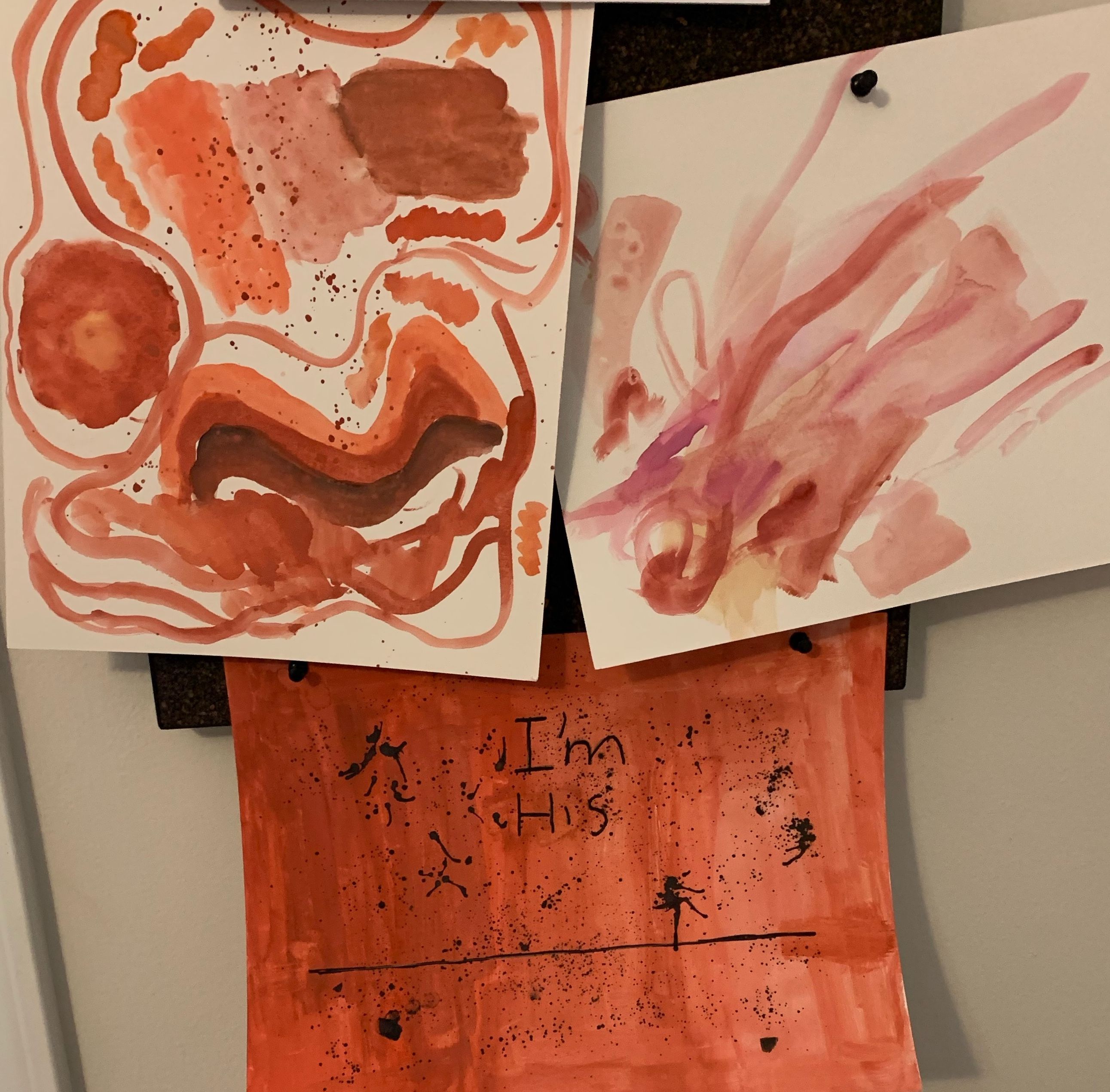 Homeschool Mom, ages 3, 8, and 10 
OHIO
2022 
"Your ministry and the great work you did with your December podcast is wonderful. Your music was such a blessing to receive. It really helped my stress level and  ability to sleep. Doing more will help many people focus on the Lord and have peace of mind. There is so little of that in the world today." 
Eva 
SC 2022 
"Thanks for sharing your gift of music. ❤️ We are taking a small road trip currently for the weekend. Listening to The Children's Heart Cry and it's been the most peaceful car ride ever. The baby even fell asleep, which never happens. It's such an anointed gift you have." 
Molly 
OH 2021 
"Fantastic ministry. If you feel stuck and in a loop that never ends, Tammy may just have an answer for you. I highly recommend her as a professional minister. She is compassionate, professional, and full of wisdom. We are in a season of receiving back all that's been stolen from us. Tammy could be a key to help unlock some of your hidden treasures/stolen identity/hope for the future." 
Dawn 
NC 2020
"Well, that ranks right up there with the best gifts I've ever received. Words fail to describe the experience (which is why we need music), but I'll try. There were several melody lines throughout the piece that immediately overwhelmed me (it was like all the best moments in life brushed past me at once) and flooded my eyes with tears. I wanted those parts to go on and on and on. If hope had a heartbeat that's what it would sound like. Hope was the word association I got the most throughout the whole song. It felt like I was soaring above myself and looking down and I actually liked who I was, am and will be. It felt like my identity in Christ was mended where it had ripped or torn due to the fall, the heredity of sin, the orphan spirit, grievance, etc. I felt rested, rejuvenated, loved, restored, excited, captivated, grateful. I sensed that God was singing over me, "You've never been alone and you will never be alone." 
What a gift, what a blessing! That's just my first listen. I know there's many more layers of sweetness to unfold! Thank you doesn't cut it for the last two days, but I say the words anyways with my whole heart ❤️."
Emily 
Ohio 2020 
"I felt an overarching sense of peace throughout. It felt a bit like a journey, and I guess because I know you so intimately, I could feel the different release points throughout the music. I experienced sounds of happiness, dancing, rejoicing, and celebration. I heard slow water, moving water, washing water, overflowing water, cleansing water. I felt strong sounds of release with brief, but deep groanings preceding. The inference of the sounds suggested parts of the heart already known, with anticipation for the things that are not yet. The ebb and flow of the music had a quality of "building into"--as in restoring or revitalizing.  When it was over, I actually wanted to go take a nap because my body and spirit felt so relaxed and at peace. There was also a sense of marvel at being able to hear the song of my wife's life and heart at this point in time; knowing it will change over time, but special to this moment. Beautiful!" 
Matt 
Ohio 2020 
"Thank you again. I have not been able to go through everything fully like I want but wanted you to know I listened to the song you created and slept better than I had in years, I really appreciate it. "
Kelly 
TN 2020 
"I just wanted to thank you again for the amazing session yesterday. Your gifts and talent are incredible, thank you for using them to bless and serve others and the Lord ❤️ The piece you made for me is truly beautiful. I've listened to it several times and each time it is more beautiful to me and I feel God's love more and more each time." 
Angela 
Ohio 2020
"We have been working with your frequencies for years. Thank you for your service, which has definitely brought more fruit than you think! Please do not let anything or anyone stop you on the path that Almighty has prepared for you!" 
Your sister in Yeshua HaMashiach, 
Nicole 
Germany 2020
"Just wanted to let you know how much I appreciated our time together. I'm not sure what is a normal experience for your clients but I'll tell you what I felt. Even though I work remotely with people every day who describe the things they feel as I work on them I was unprepared for how real the sensations were for me. The way you incorporated scripture and the blessings associated with the fruits of the spirit, the 7 fold spirit and being commissioned in the giftings was so powerful. As I was laying there the Father was telling me "let yourself be filled up" and I know that our session would equip me to advance in my calling and bring breakthrough for the survivors I work with. Each item you repeated (for example, patience, integrity, dreams, strategy, etc....) each and every one is CRUCIAL for me (and the body as a whole) to be effective and I was moved to tears on many occasions.  
The sealing at the end was so important as well and it mirrors what I do at the end of a session so I was glad to have that done for me. Pronouncing blessing over my space  was also something that made me feel so cared for and it felt very powerful.  
I felt so incredibly at peace and just wanted to sit there for hours when we finished. In fact, I could hardly walk. Lol I plopped down on a massage table like a rag doll and I felt like maybe those who around me could even see or feel my body vibrating. It was very exhausting and yet invigorating at the same time. I wish I had more time to recover. Once I got myself on my feet I was a bit unsteady and the receptionist was laughing at my slow motion walking. Lol then the chills came - I had to wear my winter coat during my next session. I guess it was some major reset going on.  I'm excited to sleep tonight remembering the tones and imagining the colors.  
You have blessed me beyond imagination and I honor you in the spirit for being such a good and faithful servant!  
Love and shalom!!  
Kim  
2020
"What a blessing to have you at Gold Monarch this past year! You have opened our hearts to so much of what the Father is doing and we are forever changed. You have such a heart for giving and I know the floodgates are pouring over you more and more."
Amy
Texas 2019
"I have no English words to expressly gratitude not only for your friendship, but for all the healing you have brought to me - and now to my generational bloodline. Truly a 'spit and dirt' day! May Deuteronomy 1:11 blessings spring forth and flow abundantly for all you are and all you do." 
Miley 
NC 2019
"I've been thinking about you every day because I listen to your music and your prayers every day. It is wonderful. And the music always feels good in my body to hear it. I have sincerely enjoyed your heart and your music!!!" 
Cecilia 
NC 2019
"I've been playing your kids album in my home and it's so calming and peaceful! I have it streaming from Apple Music in my living room while we are homeschooling, going about our day, and I'm really hopeful that it'll help shift the atmosphere when it feels chaotic and drives me to anxiousness/feeling stressed…" 
Anonymous 
Instagram 2019
"Can't even find a way to say how much this beautiful music ministers to my body,soul and spirit – Thank you Tammy for freely and enthusiastically sharing this amazing gift God has given you.  You have truly multiplied it's impact with your creative distribution and marketing.  Well done good and faithful servant of our Lord and Savior!" 
Lynn Vanasse 
Minneapolis/St. Paul, MN 2019 
"This (sound healing session) was truly transformational in the spirit! Put this soaking session on before bed. You will not believe where you go. You will have an encounter with the Presence and love of God. Tammy, you are highly anointed by God. I praise Him for the amazing blessing you gave me today. Like being kissed by Jesus. Glory!!!!" 
"I had the most amazing encounter today, in the spirit with Tammy Sorenson's Soaking Session. PLEASE, listen all the way through. This is very, very high level prophetic gifting through sound. Grab a pillow on the couch or bed, lay back and encounter Heaven….The presence of God is so full, it's like being awakened and brought from sleep into his bosom. It starts very slowly. Wait til you see where you go. Tammy, may the fragrance of God's love be exposed all over the internet, through the gifting He has given you, to pull Heaven to earth…Glory to God! Wow….wow….wow…Please soak in this incredibly anointed music. Set time aside. It starts off very very slowly. Wait until you see where you go….I for one, am buying every CD of Tammy's that I can! PS…..if you are seeking to grow in the Kingdom and to receive the seer anointing from God….I tell you, this is the place to start for sure." 
Cassandra Dunham NC 2019 
"I am listening to your Healing from CD this morning. Holy Spirit has been so instantly present with me, speaking Psalm 116 and reaching deeply into old wounds.  The weeping is sad and healing at the same time. Thank you for your perseverance and obedience and steadfastness through many, oh so many trials, to produce the beautiful, healing sounds the Lord is releasing to you. My prayer for 2019 is that He sends these sounds far and wide, and increases your range and influence that many may be healed and restored…Bless you my beautiful friend!  May you be with Him in His sanctuary today." 
Doreen Minnesota 2019 
"Thank you for being such a blessing! I'm having amazing results and responding so well to the music and everything given in my session! Eventually I'll write up my testimony…but I'm enjoying the process. Just wanted to say may 2019 be your best year yet and God to bust wide open all the new doors of opportunities!" 
Melissa 
Florida 2019 
"Some people worship songs, some people worship worship, but Tammy and Kevan worship Jesus when they lead us in worship.  They have brought in the Presence of God so strongly at The Refuge House of Prayer over the last year that it has left an open heaven of angelic activity even when they are not leading worship.  Their maturity and depth of love for God is unique in Christian ministry.  Their ability to hear God and flow in the Holy Spirit is amazing!  We feel honored to have them with us both as friends and ministry partners." 
Dan and Eva Steward 
The Refuge House of Prayer 
1359 Cane Creek Road 
Fletcher, NC 28732 
"I had a VoiceBio for Sound Healing Therapy done by Tammy Sorenson. It is an amazing process in which you are asked quesions and your response is recorded. This information is transferred to a graph on the computer showing you areas of your body that are not in balance. There is more to the process than just this. After Tammy prayed with me and shared with me what was showing out of balance she played music that ministered to me for close to an hour. The anointing of the Holy Spirit ministered in such a way it brings me to tears every time I listen to it. The music is so soothing and healing to my body. I highly recommend that you have a VoiceBio done as well. Truly a gift from God to restore health and healing to your whole mind, body, soul and spirit. Thank you, Tammy, for your obedience and creation of this method. I listen to the CD you sent me of the rocorded music many times a day. I am excited to receive the healing that is transmitted through the music." 
(See www.facebook.com/renataritterinc/videos/1038241039632873/" Renata's Facebook Author Page and Video of her writing to Sound Expressions music by clicking on this link.) 
Renata Ritter, "https://www.renataritter.com/ 
Delano, MN 2018 
"Thank you for the Trauma CD. I love it! He is so amazing – how He can use your music to usher in HIS GLORY! I remember a specific encounter back in 2015 where He used you on my behalf to His glory. Three years later, He still amazes me through your CD's. I am thankful for your music." 
Angie 
Buffalo, MN 2018 
"I had the pleasure of meeting Tammy a few years ago and was invited in for a private (Sound and Healing Therapy) session. It was an amazing experience which left me calm and peaceful. Tammy has an amazing gift for tapping into the sound current which flows through her and out into her keyboard. Can't say enough. I left with a CD of the session and list of stones and colors which would work best for me (and essential oils). It is an experience everyone should try! I listen to it often." 
Dr. Steve Cagen 
Cagen Family Chiropractic 
Brevard, NC 2018 
"I just finished listening to the CD "Fragrant Expressions" and just had heaven piped into my house and heart!!!!  And now I have the "Into Me See" CD on and am working while worshipping. Unbelievable heaven sent music you are producing. You are rock stars! …only God and the waterfalls are to be thanked. Also, WE LOVE YOUR KID'S MUSIC!!!  Thank you for that gift of rest throughout our home." 
Eva 
North Carolina 2018 
"Thank you so much for your lovely worship healing music!!!!!!! Absolutely lovely! I was searching Spotify for healing frequency music and – oh dear found lots of new age – but one of your tracks was suggested and it had Yeshua in the title! I was so happy to find you had created so much wonderful music I can listen to and feel peaceful knowing it is made to glory God! I am in Australia and before I was awoken by the Holy Spirit I sang heavy metal. God made new plans for me so I don't do that at present. Praise Jesus Christ may He guide you to reach many in healing!" 
Phoebe 
Australia 2018 
"Wow! I've been trying to put my toddler down for a nap for the past 20 minutes and she wasn't having it. Eyes wide open, playing with her hands in the air…all that. I was playing the usual lullaby album she likes and falls asleep to, but nothing. Then I remembered the new Sound Expressions For Kids CD I got and played it. Not kidding, two minutes later she was out; she literally zoned out two minutes after I started playing the CD! It was magical! Even my brain felt the difference in the music. The other music felt like raindrops bouncing off my head and the second I put yours on my brain felt like it was getting a massage. That was pretty cool! You've got something there!" 
Jocilyn 
Minnesota 2018 
Undoubtedly, you are one of the finest spiritual keyboardists of this new century - may your heart song be heard in every corner of the world and every supernatural sphere of Heaven!! Your music is truly Heavenly and so very healing!" 
Karen 
GA 2017 
"Thank you very much, Tammy. We had a wonderful time yesterday, and we came back to our hosts last night and played our 'new songs' for them.  They are very interested in this. Listening again to the music, I'm even more impressed by how beautiful it is.  As well as healing.  And listening to my husband's!  It is such a mysterious thing, I can't explain it, but it is so him. So thank you again.  We're so excited about this — it's the best anniversary gift we could have given one another!" 
Steve and Lorrie 
NC 2017 
"We have a homeless individual staying with us. At night we always put your music on kind of loud. It calms dogs down, too! The first night the individual was at our house she said she slept so deeply and felt so refreshed. She said the music was saying, "Come back to me" over and over. That Sunday she asked to go to church with us and rededicated her life to God. She asks every night to put the music on. We play a variety of your CDs (they have them all). The first night we had on your latest music, Fragrant Expressions. We all love your music!!!" 
Debbie 
Texas December 2017 
" I began studying piano lessons with Tammy in June, 2012 in Minnesota.  I studied with her every other week at her studio during the summers from 2012-2014.  In the summer of 2015, I began bi-monthly lessons via Skype, which are ongoing.  This is working out very well, since Tammy is an excellent pianist and teacher.  The lessons via Skype are as productive, helpful, educational, and musical as the lessons I had with her in person at her studio.  I have progressed in my understanding of playing piano skillfully and advanced in the elements of music such as rhythm, articulation, technique, and theory.  Tammy has been masterful at understanding the musical problems I face, and has been able to develop solutions and practice strategies for me. She has taught me how to play piano like I never thought I was capable of." 
Patty LeTourneau 
Minnesota November 2017 
"I wholeheartedly endorse Tammy Sorenson's VoiceBio Sound and Healing Therapy prophetic psalmist ministry. It truly enhances and supports the Kingdom Reality of Romans 8:2: "for the law of the Spirit of life in Christ Jesus has made me free from the law of sin and death." As believers in Christ Jesus we've been free all along! Tammy really is, to quote from her book "Was I Not Listening or Did Someone Not Tell Me – The Journey of a Psalmist," "an oasis and a shelter for many who are thirsty for what only His presence can bring." 
In her home recording studio, Tammy conducted my VoiceBio session which I had scheduled. As she sat at the keyboard and briefly prayed, the personal music portion of ministry began cascading as waterfalls of Spirit-led healing grace from her heart and hands and voice. Spiritual walls of sludge began dislodging from my soul and falling away. A revelation of Abba God's goodness and unconditional love began exposing the deceptive lies of the enemy I had accepted as a believer for many years. Lies in the form of word curses had served to malnourish my life and sustained an orphan spirit mentality, keeping me hidden in shadows of shame and rejection. Revelatory insight from Holy Spirit found in Scripture is continuing to guard my heart from the voice of the enemy and enforce the Biblical truth of my real identity in Christ Jesus. Listening to the frequencies of Heaven recorded during that session as well as on Tammy's cd's brings a balsam to my soul as my heart yearns to worship the Lord in spirit and truth. Praising Jesus for the sound expressions and creative arts of psalmist Tammy Sorenson!" 
Mitzi Karen Rudshaugen 
GeorgiaJune 2016 
"To anyone who loves to incorporate music with prophetic intercession, you've got to experience Tammy Sorenson. When she sits down and begins to play and sing she becomes an extenstion of the voice of God. Her VoiceBio's are amazing and a tangible way to see healing through music. I'd highly recommend anyone to check out her ministry!" 
Bob Nelson 
Coon Rapids, MN 
I received this awesome letter of testimony in the mail this week (April 2016)! Abundantly blessed and thankful! 
Dear Tammy, I received my CD order and the gift of your extra CDs, which I gave as I felt led throughout my trip to France and Russia. I have heard from everyone that has listened to them, testimony of God's presence released, re-aligning and healing their spirits, restoring atmospheres, bringing them much needed peace and drawing them closer to the heart of God for them. I have kept your 'Joy Overflowing' for myself and love the touches of Heaven it releases. With much thanks!
Maggie
Ohio 

Highly recommend Tammy's newest cd, Joy Overflowing, and A Spontaneous Christmas. Actually, I would recommend all of Tammy's cds. They play all night in my home as I have them on my ipod and it just goes. 
Cheryl Rusch 
Sauk Centre, MN 
A dear friend shared an awesome testimony blessing yesterday with me. She & her friend went to a conference together; shared a room. My friend has ALL of my Sound Expressions Sound & Healing Therapy CDs on her computer & iPod, of which she played them throughout the night (as do we at our house). She also played them during their breaks. Her friend, who had been having difficulty sleeping, getting up several times every night, was able to sleep soundly through the night for the first time in months! Holy Spirit used the music – the tunings, frequencies, settings, keys, & Holy Spirit intention through spontaneously recorded pieces to bless this dear woman, as well as my sweet friend, with peaceful sleep – true rest – all glory to Whom all glory is due! Thank You Father for the music You are creating on behalf of others through Sound Expressions – me, Your humble vessel! 
Psalm 4:8, "In peace [and with a tranquil heart] I will both lie down and sleep, For You alone, O Lord, make me dwell in safety and confident trust." 
Cheryl Rusch 
Sauk Centre, MN 
"I absolutely know that Holy Spirit is all over this. At our Q2C Annual Gathering this past weekend, there was a demonstration time of activating Holy Spirit led intercession over one of our attending members. Nothing was verbally shared about what was being battled in the physical body, nor did I know the individual. The individual and the group surrounding was way across the room where I could not directly observe what was transpiring. I therefore asked Holy Spirit what key I was to be His vessel through at the keyboard, settings, etc. (the tuning was already A 444 Hz) and quickly received, "You haven't played in the key of 'F' yet." So 'F' it was throughout the intercession time. At the end of the evening I inquired about specifics, only wanting to know from a sound; healing therapy perspective. The key of 'F' it was to the 'nth' detail of what was manifesting as the battle. Holy Spirit is incredibly amazing and wisdom Himself. We only need to listen for His leading and then follow. There will be numerous opportunities for this creative path in the new season we have entered. All glory to the Creator and Healer alone!" 
Tammy Sorenson 
Sound Expressions 
"My name is Melanie Waters, and I am a speech language pathologist in Alabama, where I have a small private practice. I work with students who have autism, dyslexia, speech/communication issues and auditory processing disorder. 
Like you, I have been struck by the bug about sound. A few years ago when my pastor preached about God speaking the world into existence, I started thinking about the sound waves that must have come from Yahweh…the frequencies!… Then I heard a testimony from a mom of an autistic child from New Zealand who attended a worship seminar where they talked about healing frequencies (it was Ray Hughes, but I had never heard of him at that time). When the mom returned to NZ, she asked God to show her the frequency to heal autism…everything she found in that frequency was new age so she asked God to sing over her child. One night her child told her a man was singing in his room and she told him to get up in his lap like he did with his grandpa. The child slept all night which was quite unusual, and over the course of the year, gradually lost all his autistic characteristics! 

The next step in my journey involved working with a child who was adopted from a Russian orphanage. After I read an article called 'Trauma and the Post-institutionalized Child' from giftfromwithin.org (a group that deals with PTSD in different populations), I started thinking about how our bodies "hear" through vibrations of sounds , aka 'bone conduction', in our bones; therefore, a lot of meaningless noise can actually make us physically uncomfortable. If a child is in an environment like an orphanage where there is a lot of talking but none of it is directed to the child, it's more comfortable for the brain to "turn off" the sounds. That's when an auditory processing disorder begins to occur. The ears can hear, but the brain doesn't quickly process the information. 

I found it interesting in your article that 528 Hz was the healing frequency – I think I remember that correctly. Many children I work with who have an auditory processing weakness don't really hear 500 Hz well. I provide a computer program called Fast ForWord (from Scientific Learning); it's based on the premise of neuroplasticity, i.e.the brain's ability to be rewired. One of the exercises trains the brain to hear the sequence of sounds, with the primary frequencies presented being 500 Hz, 1000 Hz, and 2000 Hz. It often takes much longer for the students to complete the 500 Hz level. 

It's also interesting to me that researchers now say the premise of dyslexia is based in the way the brain processes sounds of the language. 
One of my autistic students, a 10-year-old boy who was adopted from Guatemala, recently got your CD "Free to Be" after I recommended it to his parents. The mom texted me the night they got it and said the little boy got a huge smile on his face and started jumping up and down saying, "That's my music!" when they first played it. The next morning, he turned on the CD on his way to the bathroom. This child is not an animated boy so his reaction was quite something. Thank you for sharing your passion with others and for listening to and obeying Holy Spirit to get the music out to others! Blessings." 
Melanie Waters 
Spoken Word Speech  
Language Services, LLC 
Daphne, AL 
"I had the pleasure of Tammy leading the 2nd service at Resurrection Lutheran Church in Monticello. I truly mean pleasure, as your music has touched me and I've felt the healing power of the Holy Spirit for sinus and breathing issues. Immediately after the service I purchased 3 of your CD's: Into Me See, Alignment, & WaterFalls. It was hard to choose but were some that your beautiful daughter and handsome son suggested as top sellers, etc." 
Diane Anderson 
Buffalo, MN 
"Heavenly Father has used Tammy's hands to open a pathway of His goodness and heart in words on paper. This book is a testimony of His faithfulness in all circumstances. We make wrong turns, miss the mark and get in a mess but through it all Holy Spirit gives direction. Answers don't come overnight but come as a process of listening and obeying. Tammy has shared the pitfalls and the triumphs. I recommend reading Was I Not Listening OR Did Someone Not Tell Me? from cover to cover. The Prelude sets the tone and it continues on. There is hope and victory in Jesus when walking His path. Be encouraged by one woman's (family's) continued walk with Him. The journey continues." 
Cheryl Rusch 
Sauk Centre, Minnesota 
"Hi Tammy,I wanted to message you to share with you how thankful my husband and I am for your music. We have boughten many of your songs and albums, but had initially been given your album "free to be his glory" from a family member. That album has been such a blessing to us for many reasons. Since becoming pregnant in October we often played our son that album, in preparation for his arrival. It has been truly an amazing gift to see and sense his reaction to each song. Many times he has even moved closer to where the music is being projected from. Throughout my pregnancy I have attempted to play other songs/cd's but have yet to receive a similar response! We are so thankful to have discovered your music for us and our son! Thank you for sharing your beautiful gift! Love and blessings," 
Alex Molina 
Columbus, Ohio 
"Finished reading your excellent book. It convicted me, but also moved me to draw closer to Jesus; seriously seek Him; availing myself to His purposes for me. Bless you for writing it. I am passing it on to my prayer partner; praying about giving it to my granddaughter. Being the musician she is, hoping she finds the technical parts interesting, but also praying for a greater spiritual awakening to the concepts behind them." 
Kathy 
Minnesota 
"I like the "Be Good" music because it makes everybody happy." (This testimony pertains to my Alignment Sound & Healing Therapy CD.)  
Lelah, age 4 
Minnesota 
"I like this music because it makes me feel strong, like I can do anything." (This testimony pertains to my Into Me See Sound & Healing Therapy CD.) 
Alister, age 5 
Minnesota 
"When I first heart BEHOLD, I was completely changed. I was filled with joy, happiness, and peace. This happens every time I listen to this CD. I love it!" (This testimony pertains to my BEHOLD Sound Healing Therapy CD.) 
Lindsay, age 10 
Minnesota 

"I do not have any particular favorite as I enjoy them all, and use the music in a variety of ways. For rambunctious little ones or to calm a peril, "Alignment" works great. "Into Me See" is requested quite often at nap time. We enjoy listening to "Behold" when we study His Word or spending time worshiping Him. I enjoy listening to all of the music you have shared with us! You have a wonderful gift. Thank you for sharing it with the world!" 
Debbie 
Daycare, Home Educator, Home Health Care 
Minnesota 
Today I received an awesome email from a client with a praise report (4/15/15). Her name will not be given due to client confidentiality, as well as being a minor. Sound and healing therapy is one piece of many in this precious child's journey to healing and wholeness. Her doctor wishes she could "give out prescriptions for music, because music is the number one way to heal the brain!" The doctor's prescription for the next phase of my client's journey: sing, play, dance to music. We will now add her VoiceBio/Sound & Healing Therapy results, including her personalized recording and each of my Sound & Healing Therapy CDs, to facilitate the journey! 
I also received awesome telephone testimony yesterday (4/14/15). I'd administered a VoiceBio/Sound & Healing Therapy session to a friend when I was getting certified in 2013. Besides recording and recommending specific keys, I also recommend colors, stones, essential oils, and supplements, as they are frequencies. My friend was in a serious car accident last year and has been doing much doctoring, including holistic chiropractic. Her chiropractors recommended a specific essential oil needed for some of her issues. Her response: "I've already heard/known I should use that one, as it was recommended via my VoiceBio/Sound & Healing Therapy therapist." I love when confirmations come through varying testimonies. I always get confirmation of what is released spontaneously over each client as well. Trusting the Lord to bring me into a team of holistic practitioners. Our bodies are so fearfully and wonderfully made that there are multiple strategies and avenues readily available to embark on. In combination, they restore and maintain health, bringing glory to the Healer Himself! 

"Your music is now speaking what you would hear in a Throne Room! Yes, including this email brings new reality, Light to The Tree of Life and communion. How Did We Get Here  A Jet Fighter Plane! Yes, cds titles and tracts have opened up in a great way like right now. Salt and Light, and the track names have a whole new meaning. As you know. What a power shift, its almost not fair  Very effective melting power, checkmate!" 
Steve Black,Napa, CA 
"Tammy is a gifted prophetic psalmist. In that gifting the Lord has taught her to listen to Holy Spirit's voice, study to be approved through knowledge with experience; she has been honed as a master craftsman in the art of sound and frequencies of Heaven. 
These sounds and frequencies penetrate into the cells of your body and prepare you or Holy Spirit to illuminate the Life of Elohiym, the Creator, into all areas of your life. You feel alive again. You feel as if your cells are replenished. The truth is, as these sound frequencies are released into the atmosphere of your home, there is an electricity-type feel of aliveness that wasn't there before. Hearing the Lord's voice with more clarity is an effect of the sound frequencies. Life, Life, Life." 
Tom and Karen Gibson 
His Ministries Unlimited, Twin Cities, MN 
MN Strategic Coalition 
Visit the two links below for a detailed list of references and testimonials, including a Sound Expressions Sound and Healing Therapy Session video with Dr. Charles Thurston of Science and Wonders - Dr. Chuck Thurston http://www.scienceandwonders.com 
The Body Codes - Dr. Chuck Thurston Evidences Biblical Institute http://www.evidences.net 
http://theartsexpressed.com/?page_id=1070http://soundexpressions.net/references/ 
"I would encourage anyone who has any type of a neurological disorder to sincerely consider downloading or ordering Tammy's cd's. I suffer from a rare disorder called Arnold's Chiari Malformation 1 Syndrome. I started listening to the "Alignment" cd and was so amazed at how my body began responding to the beautiful music that I was listening to! I actually could feel the tension leave my body and when I got up to walk I had less spasticity in my legs and had regained a certain amount of balance back. Tammy's "Wave" cd is so relaxing for my whole body, also. Thank you, Tammy for such beautiful relaxing and healing music. I can't wait to get more of your cd's!" 
Dianna Koeth 
Mount Vernon, Wa. 
Tammy's unique and powerful gifting in music and sound therapy have allowed me to experience in a deep and meaningful way, the empowering confirmation of the Lord's leading, as I step forward to follow Him in a new direction in my life. The presence, love, and healing power of God was manifested to me through the inspired and skillfully presented "sound expressions," spontaneously composed and performed by Tammy. It was an awesome (and awe-filled) experience.  It was incredible for me to learn that my voice alone, when analyzed by a highly trained technician and a sophisticated computer program, could reveal such accurate insights into my physical and emotional health. The VoiceBio picked out voice frequency deficiencies and abnormalities which accurately identified previously diagnosed physical illnesses and limitations, along with some others that were until that point unknown. Tammy offers a totally unique experience for her clients by spontaneously composing a therapeutic, frequency rich personal "song," to begin the healing process for the deficient frequencies. It was a beautiful, calming, relaxing "one of a kind" experience. Thank you Tammy! 
Lynn Vanesse 
Minnesota Hypnotherapy Associates Minneapolis, MN 
Tammy Sorenson lives and breathes creativity. It pours out of her in passionate worship as her fingers dance on the keyboard and she sings new songs unto the Lord. I love the name of her ministry, The Arts Expressed, not only because she does it so well, but also because God's heart is calling forth artists to a greater freedom and effectiveness in ministry. I believe this is the season for artists to be released into creative dimensions never before expressed, and Tammy has the heart and skills to help lead them there. She is an instrument in His hands for such a time as this, and we are blessed to experience her art, whether in live worship, CDs, or visual design." 
Marianne McDonough 
Director, Great Commission Artists 
EdenPrairie,Minnesota 
www.greatcommissionartists.com 
It was a privilege to have Tammy Sorenson come to our church recently and do psalming and training with our worship leader.  Since that time together, I have seen a new release and freedom in our leader.  Also, many in our church enjoy the beautiful CDs, Grace for the Journey, The Journey, and Free to Be His Glory.  I have personally enjoyed more than one spiritual journey with Tammy as we've soaked in the revelation of His Love. Tammy is a woman who has much insight into sound frequencies, music, and the spirit realm.  You would be blessed to journey with her!" 
Pastor Alice Sharping  
Prince of Peace Christian Church Tomahawk, WI 
Tammy is a lover of the Lord, a teacher, a psalmist…and so much more.  For the music that comes out of  her is coming from who God has made her to be.  She brought me into the realm of eternity. One additional note: while playing Tammy's CD, "Grace for the Journey," I was praying, listening to the Lord, waiting on Him, when a specific individual came to mind.  The verses from Psalm 139 about being "fearfully and wonderfully made" followed, and I began to pray them over the individual. I had not looked at the titles of any of the music on the CD. It wasn't until my next lesson when I was sharing this with Tammy that she said, "Fearfully and Wonderfully Made," was one of the song titles on the very CD I had been listening to! God is amazing, and that which He wanted me to pray came through the music He had given Tammy!  WOW! " 
Patty LeTourneau 
624 Oak Ct. SE 
Long Prairie, MN   56347 
"Beautiful soaking piano music came from Tammy Sorenson who is a Deborah from the Midwest. The Holy Spirit used her music open up the hearts of the people. You could see the changes on their faces as the day progressed." 
Lucy Riethmiller, President, Deborah Company Midwest Region 
Spirit Speak Autism Awareness Symposium Report 
Buffalo, MN 
"Thank you so much for Saturday afternoon as you ministered so beautifully in worship. We appreciate and honor the gift that you carry." 
Karen Krueger 
Bless Israel CommitteeCall to the Wall 
Minnesota Apostolic Prayer Network 
Regional CoordinatorHeartland Apostolic Prayer Network 
United States Reformation Prayer Network 
"We repeatedly use your "Spontaneous Expressions" worship CD as a background for our weekly evening prayer service. It is such an anointed CD. Amazingly, each night we use it, the melodies and expressions seem to fall right in line with how the Lord is directing the flow of the prayer. I also must mention how grateful we are when you visit us sharing either in word or by joining in freely with our musicians and sharing your musical gifting. You always add that added extra to our worship experience. The sweet spirit in which you minister brings the warmth of fellowship." 
Pastor David L. Fronsoe, Senior Pastor 
Evangelist Crusaders Church, Minneapolis. MN 
"I can't thank you enough for ministering to the Body here in worship! Your CD has been a huge blessing to me. It plays continually in my prayer closet (my car). Bless you!" 
Cory Pearson, Women's Ministry 
Living Waters Church, Elk River, MN 
"The entire Sorenson family is a family of worshippers. Kevan, Tammy, and their three biological children, Jaran, Jadan, and Jessa are talented musicians. They are not just typical worshippers with their music, but they are aware of the spiritual influence of the sound of their instruments and voices. They know they are releasing God's glory and revelation as they worship. Their three adopted children, Jenna, Jocilyn, and Josiah, worship in art, poetry, and the Word. All of them have learned to prophesy in numerous ways in art and creativity. It has been my privilege to spend time with them and see their hearts for the Lord. Tammy wants to influence others to worship in any way possible, and that is reflected in her own children and in her enthusiasm to bring heaven to earth." 
Alice Sharping 
Missionary with Every Nation